The HOMEBOOK™ Method is what sets HOMEPRO apart from all other home inspection companies.
The HomeBook™ was developed in 1981 to provide an accurate and easy to understand Home Inspection reporting system. Using the three priciples of Clarity, Simplicity, and Insight. Many new homeowners have found The Homebook™ to be an invaluable resource and tool in their contemplation of a new home purchase.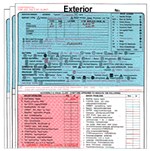 Providing a comprehensive reporting system, The HomeBook™ educates the home buyer and affords them the opportunity to make a more informed, educated purchase decision.
Each of the eight major systems of a home are examined, evaluated, and documented on the Key Sheets of the HomeBook™.
Each key sheet is color coded to other sections of the book that detail componets, systems and their maintenance (blue); minor problems and suggested repairs (white); major problems – $500 or more to correct or safety issues (pink).
Other important features of the HomeBook™ include: Perspective Summary rating the condition of the property by comparing it to its peers. ("Apples to Apples") Narrative sheets to back up the "key" sheets and to provide reference. Component and system maintenance guidelines. Authority Reference/Useful Products Guide. Cost Guides & Five-Year Projected Budgeting Life Cycle Replacement/Repair Cost Guide.